When choosing outdoor cycling jacket, many people may mention the waterproof rating. But you may confused, which waterproof rating should you choose in different situations. So in this post, we will make a brief introduction about waterproof rating and breathability rating.
The usual explanation is that when a water column with a height of 10000mm is pressed on the fabric, and no more than 3 drops of water seeps out of the fabric within 24 hours, then we consider that the waterproof index of this garment is 10000mm.
| | |
| --- | --- |
| Waterproof Rating (mm) | Level of Water Resistance |
| 6,000-10,000mm | Some resistance |
| 11,000-15,000mm | Normal resistance |
| 16,000-20,000mm | High resistance |
| 20,000mm + | Highest resistance |
2. What is Breathable Rating
Even at rest, a person loses half a liter of fluid through the skin every day. The amount of fluid a person loses during activity also increases. To release moisture, a rain jacket needs to have the ability to ventilate, or breathe, not through air holes, but through the fabric itself. This is not difficult because cotton and nylon are breathable fabrics. The question is how to make the fabric waterproof in addition to being breathable. This may seem paradoxical, but based on simple physics, fabrics with many different layers can do this. The temperature and humidity are higher under the ski jacket than outside. This creates pressure by which the moisture can be vented to the outside.
Besides those ratings to consider, the product design is also should be taken into account when buying a suitable outdoor cycling rain jacket. Details make perfection.
The 3D hood design is detachable for use.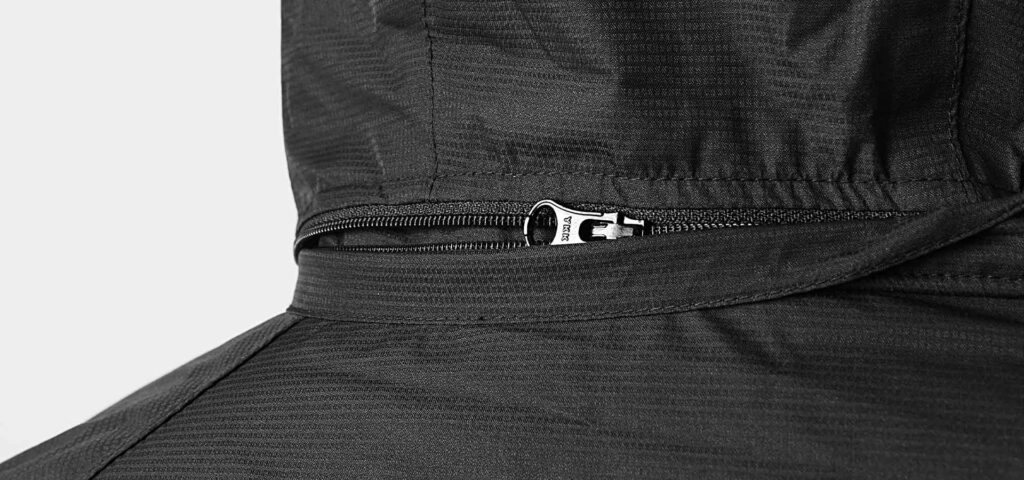 The water-resistant tab on the inside of the zipper acts as a small channel for water to flow down and out, preventing water from dripping into the zipper in adverse weather conditions.
Enhanced abrasion resistance design at the hips, elbows, and under arms.
Special reflective design can increase the visibility in bad weather. Safe for cycling.
The sleeves can cover the back of the palms to provide additional comfort and protection, and there are fully open ventilation zippers under the armpits on both sides.
The hemline is short in the front and long in the back.
The pocket will not be covered by the backpack belt and seat belt.
The inside of the garment has zippered pockets, and hem and sleeves have elastic adjustable lacing.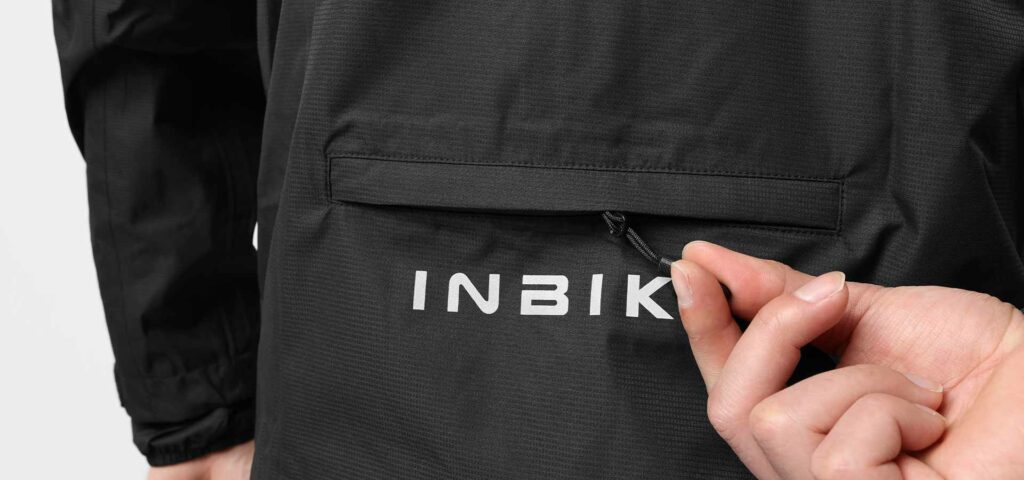 Stitching line have waterproof embossing treatment.