For motorcyclists who commute on their motorbikes almost every day, finding a pair of breathable summer motorcycle gloves is harder than finding a comfortable and breathable motorbike helmet, but motorbike gloves are almost standard equipment for riders on the road.
Motorbike gloves can provide protection against slips and falls, especially for those who are prone to sweating. They need a pair of gloves that can be worn in the summer without being stuffy and can solve the problem of sweaty hands.
In this post, we have a few motorbike gloves that are suitable for summer wear, so you can choose the right style according to your preference and ensure a safer and more comfortable summer ride.
Highly protective full-finger motorbike gloves are recommended. Ans they are more suitable for outdoor off-road environments.
The majority of full finger motorcycle gloves are designed to protect the back of the hand and finger joints from drops, so if you want better protection, just choose a full finger motorbike riding gloves with better ventilation, especially in outdoor off-road environments where the full finger gloves offer better protection from the wind and sun.
SCOYCO Full Finger Summer Motorcycle Gloves
A combination of technical materials and functional protection. The fist shell is made of high quality carbon fibre, which has a reputation for being robust and hard-wearing. The outer side of the hand is made of abrasion-resistant fibres that resist tearing, and the inner padding is soft and cushioned. The knuckles are individually gripped for efficiency and flexibility and have individual ventilation holes for timely heat removal.
Helbas full finger motorbike glove with high protection
Upgraded touch screen design for a more sensitive touch screen. The four-finger anti-impact venting design protects the joints while allowing for smooth air circulation. Anti-impact fist shell with three-dimensional structure for safer riding. The palm rest section has anti-slip shock absorbing pads to reduce the risk of injury in case of a fall and to reduce the wear and tear on the skin of the hands caused by long rides and exercise.
Alpinestars full finger motorbike gloves
The material is a combination of mesh and leather, with a carbon fibre hard shell on the knuckles for greater protection. The palm and outer side are reinforced with suede for greater abrasion resistance, and the knuckle section is ventilated with tpr to enhance ventilation and ensure good breathability in summer.
Recommended leather full finger motorbike gloves: (soft and delicate, more flexible hand movements)
Modo Wolf Leather Full Finger Motorcycle Gloves
Perforated cowhide and sheepskin splicing, with a thickened palm and a carbon fibre fist shell. The leather is breathable and perforated, refusing to be stuffy and humid, and the nails tap the smart device at will. The wrist with adjustable Velcro straps greatly enhances the comfort of the wrist. The joints are not only ventilated but also have a unique impact protection to ensure air circulation while strengthening the impact resistance.
INBIKE Leather Full Finger Motorbike Gloves
The pure sheepskin feels very comfortable in the hand, and the sophisticated lining allows for better breathability and comfort, adapting to different temperatures and activity levels. The built-in three-dimensional drop-protection hard shell also offers better protection than the usual shock-absorbing foam. The touch screen is supported by the index finger and thumb, and the palm and palm rest have a friction-resistant design and shock-absorbing cushioning for comfort and protection.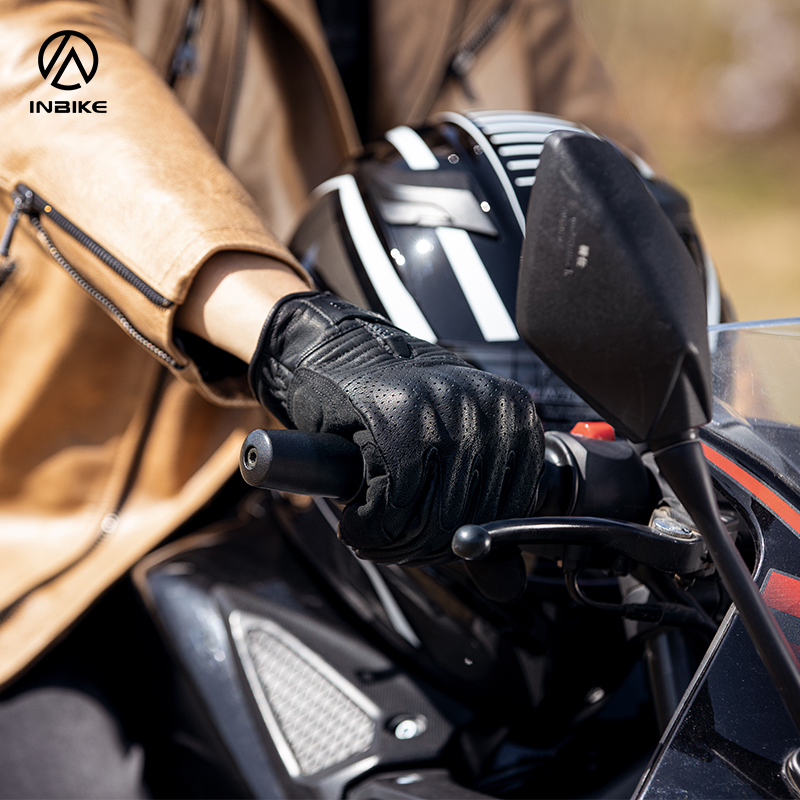 Summary
(1) The high protection glove is excellent in terms of impact and shock resistance, and is breathable, giving the rider more all-round protection in the harsh summer outdoor trail conditions.
(2) The leather full-finger version offers more hand control and a balance of protection and breathable comfort for all occasions.
Translated with www.DeepL.com/Translator (free version)