Everyone who rides a motorbike has a suit for themselves, and the need to have one goes without saying here. Pick a motorcycle jacket mainly to protect yourself, and of course to make you cooler! It will make you feel comfortable, but without making you feel like an armoured warrior about to go into battle.
The key to buying a motorcycle jacket
A good motorbike jacket should be safe, comfortable and stylish all in one.
Safety
This is the basic requirement for a motorcycle suit.
Protective equipment
The addition of protective material in specific places is not a decoration, but a necessary and mandatory safety requirement. These areas include the shoulders, elbows and back. There are many different types of protective material and many different looks, but the ultimate goal is to ensure the safety of the rider.
There is an industry standard, the CE marking, which is a mandatory certification for sports protection products in Europe and the USA, and the safety factor has to be met in order for CE marking to be issued. It is only with CE certification that protective gear is safe and has better protection than without.
The types of protective gear are generally divided into two categories.
Hard protective gear – (including PVC, metal, hard rubber, etc.) It has the advantage of being resistant to friction and punctures. Due to the hard texture, the impact cushioning performance is poor. Mostly used in the production of external protective gear. Suitable for areas where the road environment is more difficult.
Soft protective gear – (including EVA, XPE, synthetic rubber, etc.) His advantage is also the disadvantage of hard protective gear, soft texture, comfortable to wear. The impact cushioning performance is excellent, and the protection effect is better than that of rigid protective gear on high speed flat roads. Can play a good role of shock absorption cushioning.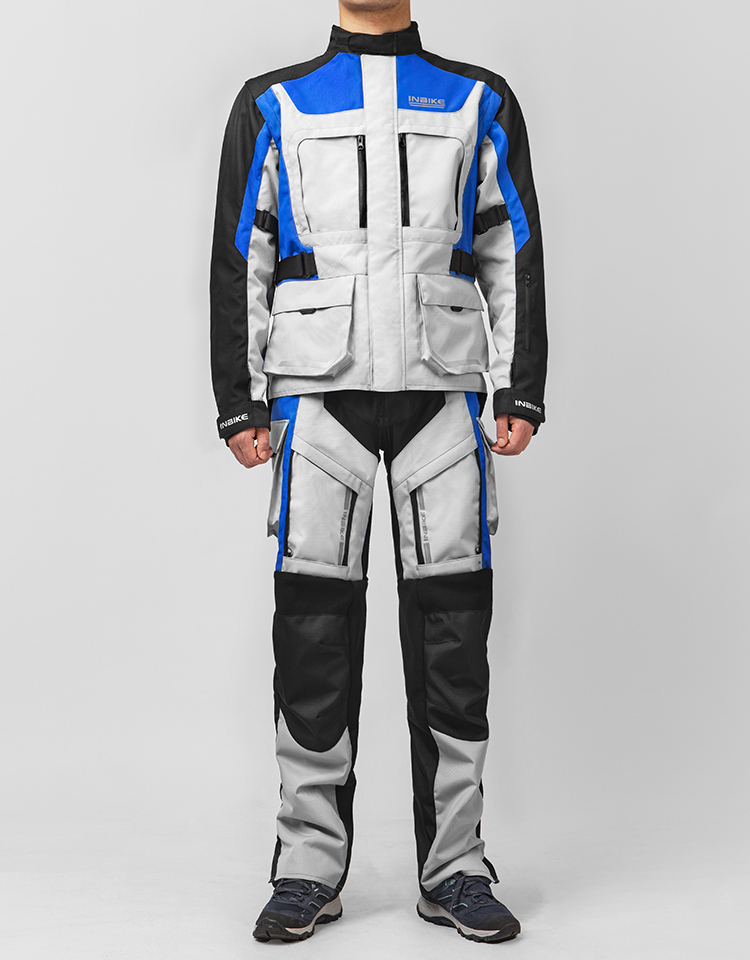 Reflective equipment
One of the main causes of motorbike accidents is that the other driver does not see you! Check your motorbike jacket immediately for reflective material or bright coloured material, they will be on the arms, back etc.
Comfort
A comfortable motorbike jacket must take into account the rider's riding condition. This means you need longer sleeves, you need slightly more room in your shoulders, you need slightly longer material at the back waist to cover the gap between the top and the trousers, and it should also be able to be tightened and closed to protect against wind and rain.
Ventilation
I've just talked about the air tight requirements of motorbike clothing, how about ventilation? On a hot day, it is much better not to leave the jacket open, but just to open a few ventilation holes, otherwise the jacket will roll in the wind. The underarms are the best place for ventilation zips.
Lining
A good liner also plays a big part in comfort. Many jackets have a removable liner, so make sure that it can be secured in multiple places on all sides, otherwise it will curl up or be exposed when you take the jacket off. The liner is made from a very sophisticated fabric, usually a single breathable fabric like outdoor sportswear, to ensure breathability and wicking at the same time.
Fabrics
Motorbike clothing is generally divided into two types: leather jackets and textile jackets. Textile fabrics are mostly polyester or nylon, and commonly used are high-strength oxford or taslon fabrics. For example, DuPont's Cordura is a high-strength fibre that is both breathable and tough. Motorbike clothing is generally made from high-count threads of 500D~600D to increase abrasion resistance.
Pockets
In principle, the more pockets the better. You need at least one fully waterproof inner pocket for money clips, documents or mobile phones etc. The outer pockets must also be able to close tightly, otherwise they are useless. Think of all the pockets you'll use on your bike? So make sure all the pockets can be closed, usually with waterproof zips or pocket flaps to keep the rain out.
Zips&buckles
Fastening your jacket is a routine act, but it is an important functional indicator for a motorbike suit. Wind, rain and many other factors can affect these functions. Therefore, a simple zip is not sufficient and a stronger one should be chosen. The outside of the zip should be covered with a flap. Because the wind can blow through the teeth of the zip and invade your body, a patch on the front or back of the zip will keep you warmer.
Air tightness
How airtight is your motorbike jersey? Can it be tied tightly around the neck, sleeves, waist and thighs? Otherwise cold air and rain can get in; fluttering or bulging from the wind. If your jersey is not so airtight, then at least make sure it is made of a heavy material that will not be blown around easily by the wind.
Washability
As you wear your garment over time, the performance of all garment materials will diminish or weaken, becoming dirty, smelly and gradually less functional. So, you decide to wash it, but things often get worse, it looks better but is no longer waterproof. That's why washing resistance is also something you should be concerned about.
All in all, riders should wear safety gear while having fun on their motorbikes, and having a motorcycle jacket will definitely give you more security.