Many people may think that motorcycle clothing is unnecessary and troublesome. However, according to some statistics, it shows that the body suffrers a lot than head in many daily riding accidents, especially at low speeds. It is important to purchase a set of riding clothes and motorcycle gloves that are cost-effective and fall-proof, so that you can ensure your riding safety.
Types of Motorcycle Clothing
According to the riding sports scene, the types of motorcycle riding clothes are roughly classified as four types: city commuting / motorcycle adventure /racing / off-road.
In our daily life, urban commuting or long and short distance motorcycle touring occupy at least 80%, so it would be more practical to buy these two types of riding clothes; while the one-piece leather jacket or split leather jacket for racing is expensive, and the frequency of use is really low (except for professional riders), so this article will not be recommended. Off road is a relatively niche riding sport, and ordinary motorists are rarely involved.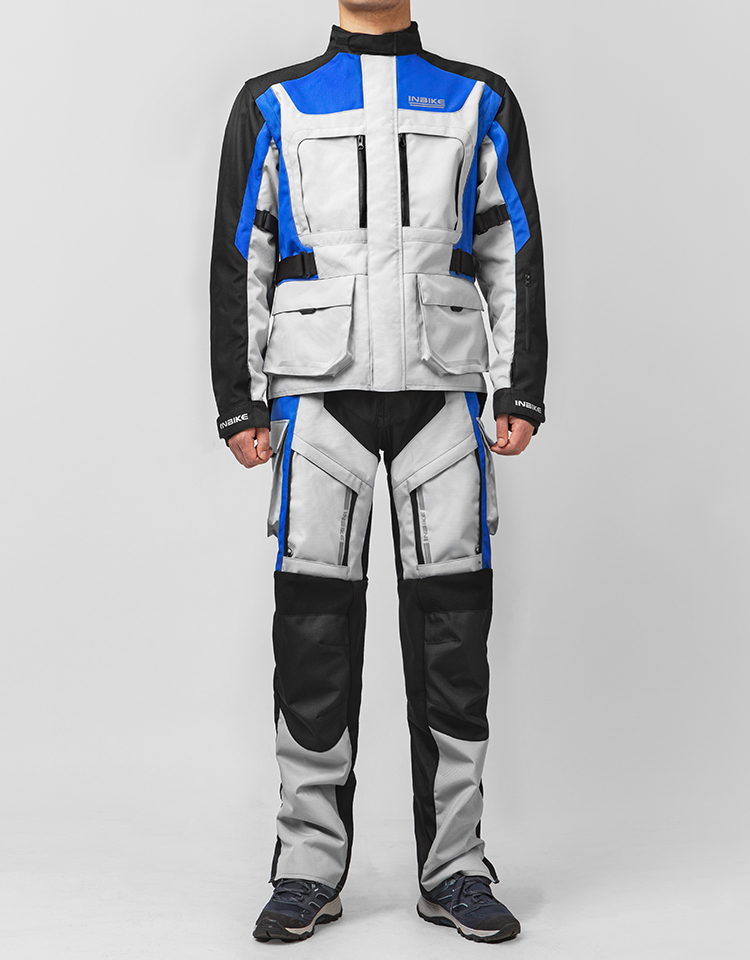 Common materials of motorcycle riding clothes
Built-in protective gearWhether it is winter, four seasons or summer riding clothes, motorcycle rally or commuting, built-in protective gear is standard. Mid- to high-end motorcycle clothing will generally have all the protective gear for each key part: shoulder pads, elbow pads, chest pads, back pads (tops); crotch pads, knee pads (pants).
Well-designed built-in protective gear has the characteristic of being extra soft on the body, but hard enough to absorb energy when exposed to external impacts.
When choosing motorbike clothes, you need to pay special attention to the size of the clothes. Too small is not comfortable and if it is too big, the protective gear is easy to shift, so it can not play the proper protection effect. In addition, you can also pay attention to whether there is a protective gear on the clothing fixed adjustment device.
Common fabrics
Commonly used fabrics for the outer layer of cycling clothing are leather, high D-number Oxford cloth and some composite polyester/nylon that is waterproof and wearable. High-end woven cycling clothing brands will also be the United States Gore-tex. which is a kind of waterproof and breathable film, but the price is usually not expensive.
GORE-TEX fabric is produced by Gore, a U.S. company specializing in innovative materials, and its unique material structure design allows you not to get wet and lousy when it suddenly rains heavily, and can always keep the body heat small molecules out, that is, highly waterproof and highly breathable, the two are not contradictory, ideal for motorcycle travel. In addition to the field of clothing, GORE-TEX fabrics have long been involved in aviation, medical, military and other fields.
In addition, four-season/winter motorcycle clothing is usually three-layer structure, the outer layer is high-density wear-resistant material, the inner two layers are usually waterproof layer and warm liner; some casual jackets use polar fleece as inner lining.