As an avid cyclist, a bike computer is one of the most useful gadgets you can have to track your riding data and performance. The two most common options are wireless bike computers and wired bike computers. While they serve the same essential purpose of displaying information like speed, distance, time and calories burned, they have some key differences that can impact your riding experience. How to choose which bike computer is best for you, here are some factors to consider:
How to Choose?
Connectivity: The most obvious difference is that wireless bike computers transmit data wirelessly via Bluetooth or ANT+, while wired computers connect to sensors through cables. Wireless connectivity means easier setup and a tidier, less tangled appearance without long cables. However, wired connections are typically more stable and reliable. Wireless signals can sometimes interfere or drop out, causing you to miss out on some riding data.
Data accuracy: In the past, wired bike computers were more accurate since the physical cable connection allowed for precise data transmission. Modern wireless technologies have largely bridged this gap. For most cyclists, any discrepancy in data between wireless and wired computers would be negligible. But for professionals monitoring performance down to the smallest detail, wired computers may still have a slight edge in data precision.
Battery life: Wireless bike computers require built-in batteries to power the wireless transmitter, whereas wired computers draw power from the sensors. This can mean shorter battery life for wireless units, with some requiring replacement of CR2032 coin cell batteries every 6-12 months. Rechargeable batteries and backup batteries can help prolong the battery life of wireless bike computers.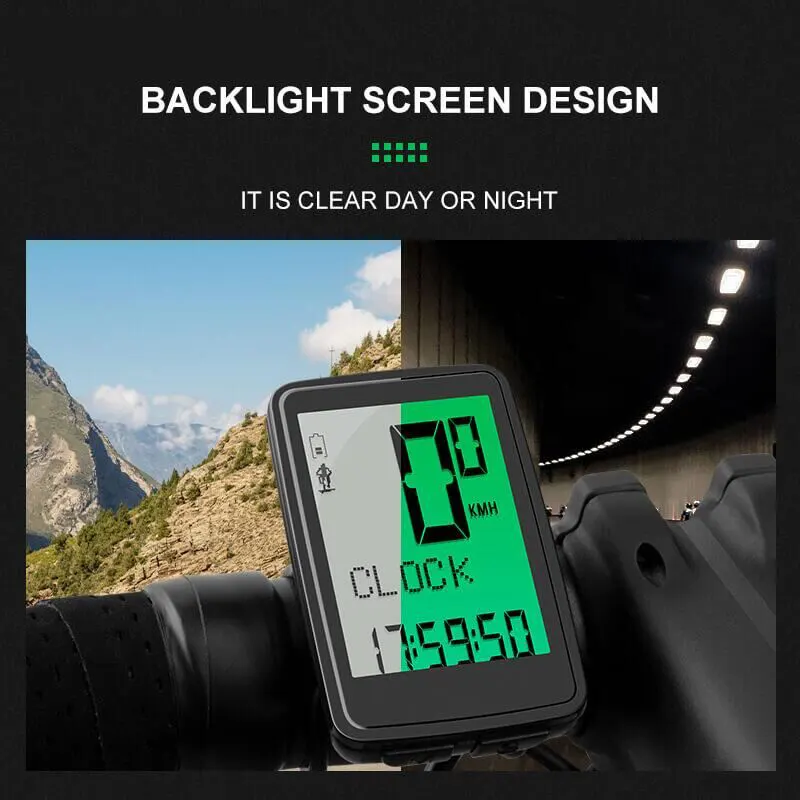 Ease of use: Wireless bike computers typically have simpler setup and are more convenient to operate. Without the hassle of routing and securing cables, wireless computers can provide a clean and distraction-free riding experience. The head unit and sensors also require less time to install and remove when transitioning between bikes. However, wired computers provide a permanent solution that does not require charging or battery replacement.
In summary, while wireless bike computers provide greater convenience and tidiness for cyclists, wired computers continue to offer stability, reliability and maximum data accuracy. For most recreational riders and cycling enthusiasts, a wireless computer should work great and provide all the necessary features to track your rides. But for professional or competitive cyclists where every data point matters, a wired computer is still the best way to go.
Features of INBIKE Bike Computers
Affordable and budget-friendly price points for both wireless and wired options. Inbike bike computers offer great value for the money.
Provide basic to advanced functions including speed, distance, time, heart rate monitoring, navigation, fitness tracking, etc. There are options for casual and serious cyclists.
Known for their easy to operate and readable display consoles. The key data are simple to read and understand while cycling.
Durable and weather-resistant build quality. The bike computers can withstand some exposure to elements, especially their wired models.
Superior battery life for wireless models up to 2 years. Their wireless computers provide plenty of runtime between battery replacements.
Available from entry-level to multi-feature models. Inbike has a wide range to suit cyclists at every level.
Market Evaluations of INBIKE Bike Computers
Very positively reviewed for their exceptional value at affordable price points. Excellent quality for the budget-conscious.
Simple, straightforward and easy to use while providing useful data collection during rides. Does the basic jobs well without complexity.
Rated highly for their durable and long-lasting wired computers which provide years of reliable performance with virtually no maintenance.
Wireless computers win points for convenience but there are some reports of interference or dropped signals on the lower end models. Mid-range to advanced models see improved connectivity and reception.
Serious cyclists and tech-savvy riders sometimes find the more basic models lacking advanced features and connectivity they desire. Models at the higher end of Inbike's range may suit them better.
The affordable price can be appealing but some cyclists experience you get what you pay for in terms of features, data accuracy and technical specs.
INBIKE is a reputable brand that offers functionality, durability and value to suit cyclists on a budget. While more advanced or professional riders may find them lacking, their bike computers continue to receive very positive reviews for their superb affordability and practicality for casual to mid-level use. At their price points, Inbike bike computers present great options for cycling enthusiasts on a tighter budget.